Blatchford's San Diego Rug Cleaning & Repair is a San Diego based business specializing in the care of antique, semi-antique and contemporary hand-woven textiles.
Our craftsmanship of rug washing and hand repairing over the decades has built our reputation as one of the premier rug cleaning and repairing facilities in the United States.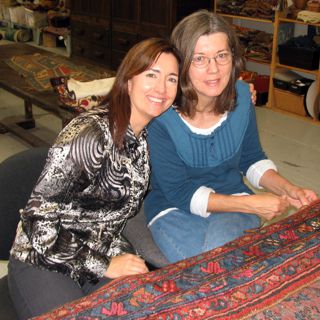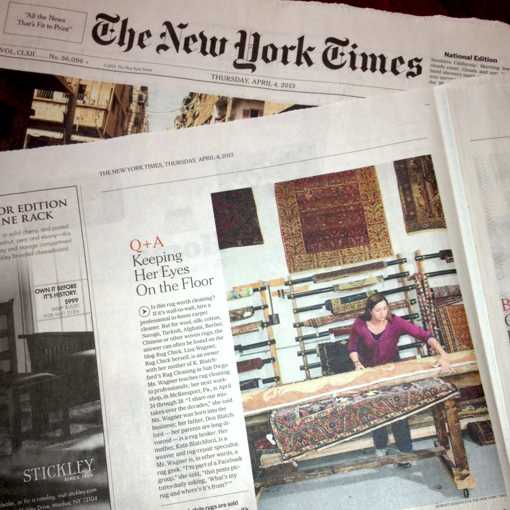 Keeping Her Eyes On The Floor
We were recently featured in the New York Times as experts on rug care in an article entitled A Rug Expert Keeps Her Eyes On The Floor.
By Linda Lee
Is this rug worth cleaning? If it's wall-to-wall, hire a professional in-home carpet cleaner. But for wool, silk, cotton, Navajo, Turkish, Afghani, Berber, Chinese or other woven rugs, the answer can often be found on the blog Rug Chick. Lisa Wagner, Rug Chick herself, is an owner with her mother of K. Blatchford's Rug Cleaning in San Diego. Ms. Wagner teaches rug cleaning to professionals…
PERSIAN RUGS TO CHINESE RUGS
The textiles that we handle regularly vary from Persian rugs to Chinese rugs – and all of the countries in between (there are hundreds of weaving centers around the world).
CLEANING AND REPAIRING OF ALL NATURAL FIBER
We are experts in the cleaning and repairing of all natural fiber – wool, silk, and cotton – Oriental rugs, as well as American Indian weavings and European tapestries.
CARE FOR NATURAL FIBER MACHINE
We also care for natural fiber machine woven area rugs (such as Karastan).
EDUCATING OTHERS ABOUT THIS WONDERFUL WEAVING WORLD
If you are not sure what type of rug you have, then you've come to the right place. What we love even more than the actual wash and repair of rugs, is educating others about this wonderful weaving world.
WE WILL TREAT YOUR FAVORITE RUG LIKE OUR OWN
Whether your rug is a little piece you picked up on an amazing trip to Tibet, or a rug you invested in as the showcase piece for your home, or an old worn rug that you remember playing on as a kid in your grandmother's house…and that you love to look at…we will treat your favorite rug like our own.
THE RUG WORLD IS A COLORFUL, MAGICAL, BEAUTIFUL PLACE
The rug world is a colorful, magical, beautiful place. Come see for yourself.
OUR WASH, REPAIR, FIELD TEAMS ARE ALL FOCUSED ON THE BEST CARE AND SERVICE
Our wash team, repair team, and field team are all focused on the best care and service for your rugs – and you. We look forward to you meeting the great men and women that make our shop an amazing place to discover.
Here are just a few of our key people
Kate
Kate Blatchford is the founder of our company, and a Rug Repair Specialist with over 30 years of experience in the field. We call her the "rug miracle worker" because her understanding of textiles allows her to work magic on all rug types, always focused on what is best for the rug's longevity.
Kate's wide knowledge and easily approachable manner makes her an ideal source of answers to any questions you may have about your rug collection, from the basics of rug identification to more specific questions about repair and care issues.
She is the heart and soul of this company and it's her love of rugs that has been the foundation of our long list of repeat and referred customers. You can't come to our rug shop and not leave without having learned something new about rugs that puts a smile on your face.
Lisa
Lisa Wagner is one of only three "hands-on" trainers in the US for oriental rug care, and author of the consumer guide "Rugs To Run From: A Rug Buyer's Guide" to help consumers avoid buy the wrong rugs for their homes. She got into the rug world by being born into it – her mother is Kate. =) She is one of the company owners.
Lisa has made it her mission to take education about rugs to those who need the information the most: carpet cleaners (who often accidentally ruin rugs by cleaning them in homes instead of washing them properly), rug retailers (who may not be aware of flawed products they should not be selling), and consumers (who often don't know what to buy, or how to care for their favorite rugs).
She is the rug care columnist for the largest trade publication for the cleaning industry and instructs on the proper care of rugs from regular cleaning and repair, to handling rugs involved in floods, fires, and other disasters.
Andrey
Andrey Pyatyshev has more than two decades of experience with cleaning textiles from around the world, and is one of the company's owners. He is the supervisor of our wash division, with all focus always on what is best for the rugs.
His expertise and understanding of rugs and their care has made him one of the top regarded experts in the field. It's not uncommon for rugs to be shipped to our facility from all corners of the US for his specialty work and care.
Lesley
Lesley Torres is a trained weaver and restorer of all types of antique textiles. She is especially known by collectors in the region as the "go to" person for the repair and restoration of tapestries and American Indian weavings.
She has worked with collectors and dealers in the San Francisco Bay area and in San Diego for 25 years. She is currently working at our company restoring her favorite tribal weavings.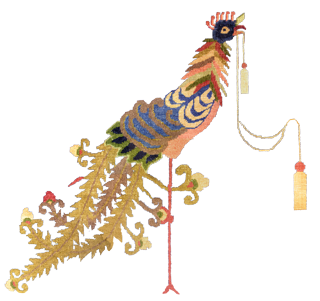 Blatchford's Location
7848 Silverton Ave, Suite G
San Diego, CA 92126
Lobby Hours
BY APPOINTMENT ONLY so we are 100% sure to have someone here to meet you and unload/load. Thank you!.
Pickup/delivery to/from your home - please contact us for details and booking.