RUG PADS
The right type of pad underneath your rug provides many benefits from keeping it from slipping on the floor or buckling, to acting as a "shock absorber" for foot traffic to lessen the wear on the rug's fibers.
These are the best pads for your rugs (and for your floors too).
PAD RECOMMENDATIONS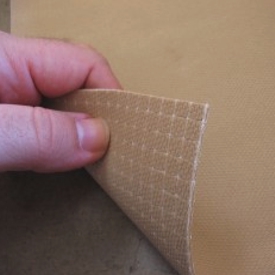 RUBBER ANCHOR
("Gripper") PAD (rugs on smooth, hard floors): Linoleum, Tile, Pergo, and some Hardwood.* [Thickness of pad = 3/32 inch.]
Rubber anchor pad for small or thin rugs on top of a smooth tile floor.
UPDATE 11/10/11: Rubber Anchor Pad will be unavailable until further notice.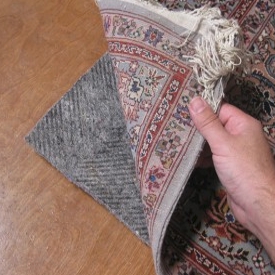 DURAHOLD PAD
(rugs on uneven and some smooth hard floors):
Mexican and Ceramic Tile, Concrete, Brick, Marble, and all Hardwood.* This also works rather well over installed sisal and seagrass flooring. Has a 10 year performance warranty by No Muv manufacturer. [Thickness of pad = 1/4 inch.]
Durahold pad is the most recommended pad in the industry.
(*The National Hardwood Association recommends Durahold Pad as the best pad to allow wood floors to "breathe" and keep a more consistent color tone in all areas.)
ORIENTAL RUGS ON TOP OF WALL-TO-WALL CARPETING
This is a tough topic because rugs are meant to be over hard floors, not soft ones. And having rugs over carpeting, and heavy furniture on top of it, can lead to safety issues from buckling as well as structural damage to the rug's foundation fibers.
We have not found an ideal choice of pad for over carpeting. We used to sell No Muv pad (the same company produces Durahold and this is a "stiffer" version without the rubber side) – but we saw after they redeveloped the product we were taking back about 40% of the pads sold due to them simply not working as well as they used to. So we stopped selling No-Muv (we however sell a large number of Durahold pads – which is an excellent product). It was just too high a dissatisfaction rate for the other pad.
So your option is to try No-Muv by finding a distributor of it, and hope it works for you. And there is only one other option as well:
STICKY PAD (small rugs on soft floors with NO furniture):
All carpeting. These pads are sold in most home improvement stores. It is sticky on both sides and "holds" the rug flat on the carpeting. It does not protect from wear, but it does keep you from tripping on the rug. It also provides a barrier in case you worry your rug will discolor the carpeting underneath. And it does offer some support for light furnishings because it holds the rug "taut" and more firm, which does help. This pad is cheap, and you can only use it once, so buy a few at a time. At least with rugs over carpeting it can keep you from tripping and getting rug burns.
If you are in the San Diego region and need a Durahold or Gripper pad for your rugs, contact us at 858-566-3833.